Buying a gemstone is often a very different experience than buying a diamond. Gemstones are bought based on favorite colors, wardrobe matches, personality, and fashion trends. While gemstones are judged using the 4Cs, just as diamonds do, each is judged separately. For example, a sapphire is compared to another sapphire, but wouldn't be compared to an emerald or aquamarine. Choose your gemstone jewelry based on your personal preferences.

---
Color
Gemstone color is different from judging the color of a diamond. Every gemstone has a range of color that runs from light to dark and more vivid to less vivid, with a small range of color considered preferable. All of the families of color are represented by gems of different types.
Red Ruby, Mozambique Garnet
Pink Pink Sapphire, Rhodolite Garnet
Yellow Yellow Sapphire, Citrine
Green Emerald, Bloodstone, Jade, Peridot
Blue Blue Sapphire, Aquamarine, Blue Chalcedony, Blue Spinel, Blue Zircon, Lapis
Purple Amethyst, Tanzanite
White Akoya Pearl, Freshwater Pearl, Mabe Pearl, South Sea Pearl, White Spinel, White Topaz, Moissanite, Opal
Brown Smoky Quartz
Black/Gray Tahitian Pearl, Onyx
---

Shape
We sell a number of different shaped gemstone jewelry. Some of our most popular shapes include round, marquise, oval, pear, princess, and baguette.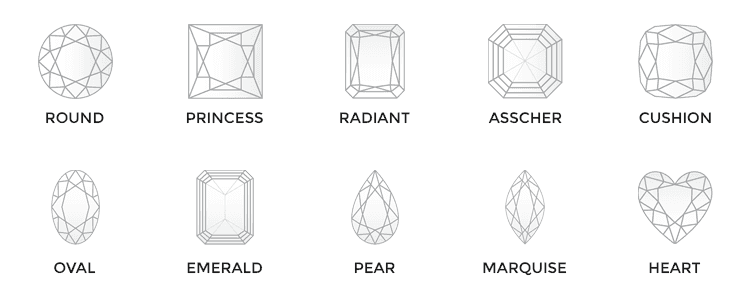 ---

Cut
Gems are cut in a variety of different ways. Transparent stones will often be cut with facets. Unlike diamonds, the facets are planned to maximize the color. Other stones like jade, opal, and onyx will be cut into a smooth domed shape known as a cabochon. While still other stones like cameos are intricately carved.

---

Clarity
Gems also have internal characteristics called inclusions. Some gemstones are known for having many inclusions like emerald or for having few inclusions like citrine. Each gemstone will be graded for clarity differently.
Like diamonds, gemstones are measured using carats. A carat is equivalent to .2 grams or .007 of an ounce. Unlike diamonds, each gemstone has a different density, which determines its weight versus its measured size. A one carat citrine won't measure the same as a one carat sapphire.